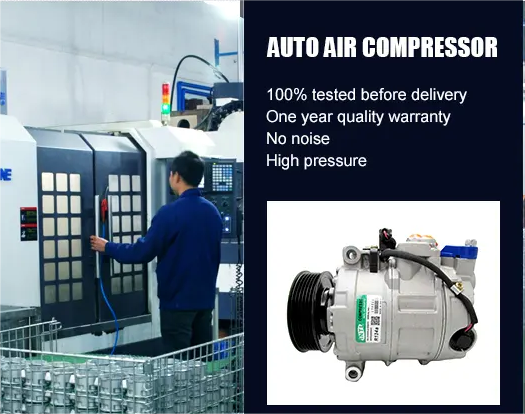 Why choose us?
1. Rich categories:

Covers 85% of passenger cars,trucks,agricultural machines,excavator, heavy duty etc. More than 30 new items developing each month.



2. Sufficient inventory:

The compressor inventory exceeds 20000PCS top sales items, provide spot sales and no MOQ request needed.



3. Quality Assurance:

Equal OEM/OES standard quality and supplying original brands products(Denso, Sanden, Fujikoki, Dehpi, Valeo etc).



4.

Diversified layout, honest transaction:

Original OEM parts; Supporting factory brand new parts; normaldomestic brand new parts; outer new and inside old coreparts; refurbishment parts. The whole process of honest transaction, so that you can get the most cost-effective at the same price, and the best price for the same quality. You will never be deceived by cooperating with Intl AC Parts.



5. Familiar with each market:

As long as you tell us your sales country, we can recommend suitable products to help you expand your business.



6. Extremely professional: We can

quickly help you find accurate products for your confirmation base on

OEM number (picture / number / model description /

RC number in South America / UAC number in North America)

.

Professionalism promotes the rapid improvement of our cooperation efficiency.



7. Most competitive price:

With more than 12 years of industry high reputation, centralized purchasing, we can provide the best price of the same quality, retail at wholesale prices.



8. Secure Transaction: Our

company has a strong inventory and financial strength, with an average annual sales of more than 100 million yuan. Alibaba super sellers, 4-star merchants, credit guarantee merchants. Any transaction between you and the Intl AC PARTS is worry-free.



9.

More services: We can help you collect goods from other suppliers to our warehouse for free to help you load containers, declare customs, and transport one-stop service, and help you save cost for free throughout the process.



10.

Limit the number of agents in each country:

Supporting only 1 or 2 big customers each country. Make sure our clients have most competitive price and quality in their market. Strive to achieve mutual benefit and win-win with each customer, so as to have a

long-term cooperation.