38800RNAA010M2 38800RNAA011M2 38800RNBA02 38810RNAA01 CO 4918 4918AC TRS09 AC COMPRESSOR for HONDA CIVIC 2006-2015
| | |
| --- | --- |
| Categories | Honda compressor |
| Album | View larger image |
| Brand | INTL Auto Air Conditioning Compressor |
| Model | INTL-XZC095 |
| Size | PACKING:25*20*18 |
| Type | Compressor |
| Car Make | TRS09 for HONDA CIVIC 2006-2011/ 2012-2015 |
| OE NO. | 38800RNAA010M2 38800RNAA011M2 38800RNBA02 38810RNAA01 CO 4918 4918AC |
| QUALITY | 1 GRADE |
| Car name | for Honda CIVIC |
| Compressor Type | SANDEN TRS09 |
| OEM | 38800-RNA-A010 38800-RNA-A010-M2 38800-RNA-A020 38800-RNA-A020-M2 |
| PN | 3400 3404 3757 3766 3788 4901 4918 4992 |
| UAC | CO 4918 CO 4918AC |
| FOB port | Guangzhou |
| Terms of Payment | L/C, T/T, Western Union |
| Download DOC | |
| Update Time | 2018-07-21 |
Detail Information
Download the PDF Document at here
INTL-XZC095

Our factory can produce many kinds of auto Air Conditioner Compressors with good quality and one year quality warrantee.  
TRS09 Ac compressor for Honda Civic 2006-2011 / 2012-2015 brand new compressor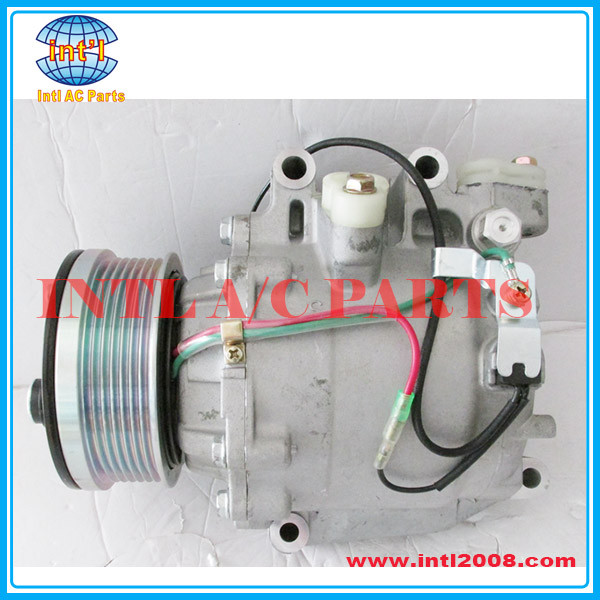 Specification:
Model Number: INTL-XZC095
Car name: for Honda Civic
Year model:2006-2011/ 2012-2015

Compressor Type: TRS09
Grooves: PV6
Clutch DIA:100mm
Volt:12v
Special Notes:
OEM:
38800-RNA-A010
38800-RNA-A010-M2
38800-RNA-A020
38800-RNA-A020-M2
38800-RNC-Z010
38800-RNC-Z010-M2
38800-RZV-G01
38800-RZV-G02
38800-RZV-G020
38800-RZV-G020-M2
38810-RZV-G01
38810-RZV-G02
38810-RZV-G020
38800RNAA010
38800RNAA010M2
38800RNAA020
38800RNAA020M2
38800RNCZ010
38800RNCZ010M2
38800RZVG01
38800RZVG02
38800RZVG020
38800RZVG020M2
38810RZVG01
38810RZVG02
38810RZVG020
PN:
3400
3404
3757
3766
3788
4901
4918
4992
CO 4918     UAC
CO 4918AC
Details
2006-2011 for Honda Civic
2006 for Honda Civic
2007 for Honda Civic 
2008 for Honda Civic
2009 for Honda Civic
2010 for Honda Civic
2011 for Honda Civic

Honda Civic 2015-2012 > 1.8L
Honda Civic 1.8L 2015
Honda Civic 1.8L 2014
Honda Civic 1.8L 2013
Honda Civic 1.8L 2012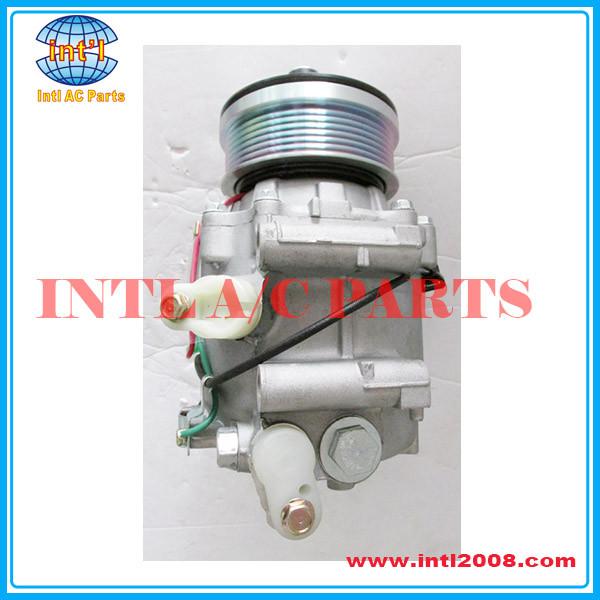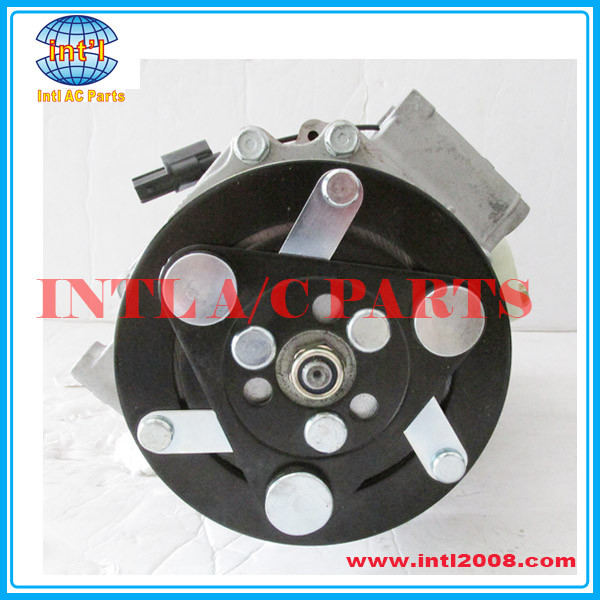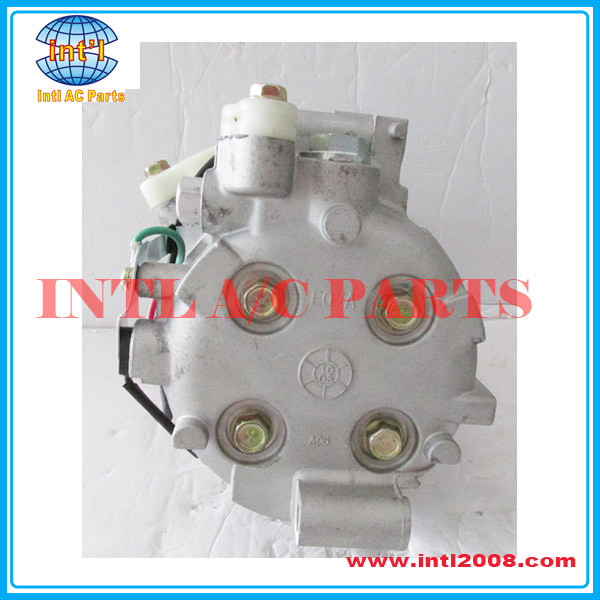 Basic Requirements when servicing an A/C system:
1, The Accumulator or Filter Drier should always be replaced when the Air Conditioning System is opened. For warranty Purposes buyer must show evidence of receiver/drier replacement. In some vehicles the drier comes attached to the condenser so it must replaced as well
2. A/C system must be clean and free of debris and contaminants. In most cases components can be flushed; however in some instances it may be necessary to replace the condenser or other items.
3. Orifice tube must be replaced; expansion valve must be inspected and replaced if dirty or defective.
4. Correct amount and type of oil must be used. Please refer to the OE manufacturer for this information.
5. Prior to refrigerant charging, full vacuum must be done for a minimum of 45 minutes. In humid climates or during cooler days, this time should be increased to effectively remove air and boil off moisture.
6. The Orifice Tube, if equipped, should always be replaced and the Expansion Valve, if equipped, should at least be inspected for proper operation if not replaced
Our Services
Do not hesitate to contact if you want to know more!
We are A/C Compressors OEM Quality Wholesaler!
100% fitting assurance!
100% leaking, noise testing before shipment
MOQ(Minumum Quantity):
1. No absolute MOQ, depending on customers' requirements.
MOQ is one piece.
2. If you need the sample, please feel free to let us know.
Sample is acceptable
Delivery Date:
* 10-50pcs, 6-12 days lead time 
* 50-100pcs,10-20 days lead time(preparation)                                                                                                                       
*Lead time varies from different compressors.
Payment Mode:
1. For sample (if available), paypal or western union will be good choice
2. Mass Production: T/T, Western Union or L/C etc.
Company Information
International Auto Parts (Guangzhou) Limited is a professional manufacturer for auto compressor from 2004,International Auto Parts (China) Limited is our Honkong branch office which in the charge of exporting and trading all kinds of automobile air conditioner parts, such as compressors, condensers, evaporators, receiver drivers, compressor oil, magnetic clutches, rubber o-rings, electric motor fans, evaporator coils, relays and others auto parts. OEM orders are acceptable.
Our company continuously persists in the tenet of "Quality first, customer highest, credit standing paramount, service first". We have many factories join us. Our company has attained ISO9001:2000 certification. We export 90% of our products to Southeast Asia, Central & South America, the Middle East, North America, Europe and Africa.
We warmly welcome you to send us your inquiries. Please feel free to contact us with any question that you may have. We sincerely look forward to hearing from you soon.
Please send your message to us
*We will reply your inquiry to this Email as soon as we see it